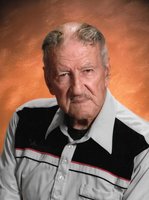 William M. "Bill" Hawkins
William M. "Bill" Hawkins, 94, of Fairmont, passed away on Friday, March 9, 2018, at the Louis A. Johnson V.A. Medical Center in Clarksburg. He was born on December 9, 1923, a son of the late Clyde Earl Hawkins and Malissa Jane Hylbert Hawkins. Bill was preceded in death by his loving wife, Adaline Maxine Bissett Hawkins.
Mr. Hawkins is survived by two sons, William Terry Hawkins and his wife Sheila of Fairmont and Gregory Clyde Hawkins and his wife Cathy of Parkersburg; his daughter, Priscilla Jane Bowers and her husband Richard of Monumental Community; 10 grandchildren, Crystal Redmond, Kim Spangler, Shelly Moran, Jason Nestor, Stacey Derby, Rachel Hullderman, Josh Bowers, Buddy Hawkins, Terra Hawkins and Keith Bowers; 17 great grandchildren; as well as several nieces and nephews.
In addition to his parents and wife, Bill was preceded in death by three brothers, Ned Hawkins, Lewis Hawkins and Ray Hawkins and three sisters, Mary Helen Dixon, Doris Caroline Gracy and Rose Ellen Hart
Bill was the owner of Hawkin's Construction from 1951-2008, had worked at Owens-Illinois Corp., was a Captain for the Fairmont City Fire Department, served on the WV House of Delegates from 1972-1974, served as the mayor of Fairmont from 1974-1976, and currently owned Hawkin's Storage. He was a graduate of East Fairmont High School, served as an Aerial Gunner (VMB612) in the U.S. Marines during WW2 assisting in the capture and occupation of Iwo Jima, was a lifetime member of the Marine Corp. League, life member of VFW Post #7048 and was a member of Gateway United Methodist Church. Bill was a 50-year member of Acacia Lodge #157 A.F.&A.M., was a 32 degree Scottish Rite Mason, member of the Osiris Shrine Center and was a past president of the Upper Mon Valley Shrine Club. He also belonged to the Orient Chapter #9 and Crusade Commandry #6, both of Fairmont.
The family would like to thank his caregiver and niece, Judy Maple for her love and support.
The family requests memorial contributions be made in Bill's memory to Shriner's Hospital for Children, Office of Development, 1645 W. 8th St., Erie, PA 16505.
The family will receive friends at Ford Funeral Home, Ford Chapel, 201 Columbia St., Fairmont, WV 26554, on Tuesday, March 13, 2018, from 2 p.m. until 8 p.m. and on Wednesday, March 14, 2018, from 10 a.m. until 11 a.m. The funeral service will be held in the funeral home on Wednesday, March 14, 2018, at 11 a.m. with Pastor Tim Edin officiating. A committal service will follow at Grandview Memorial Gardens in Fairmont. Full military rites will be conducted by the Marion County Honor Guard and Masonic Ritualistic Services will be conducted by Acacia Lodge #157 A.F.&A.M. Online condolences may be made to the family at www.FORDFUNERALHOMES.com.