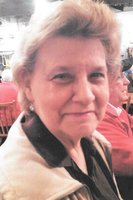 Barbara Ann Hayes
Barbara Ann Hayes, 69, of Fairmont, passed away on Thursday, March 8, 2018 at Monongalia General Hospital in Morgantown. She was born September 11, 1948 in Fairmont, WV a daughter of the late Harold T. Bissett and Anna Doby Bissett Karr. She is survived by her husband of 49 years, Oliver Mason Hayes, II of Fairmont.
Mrs. Hayes was a 1966 graduate of East Fairmont High School where she belonged to the Girls Athletic Association and earned a school record for the girls' standing broad jump at the county track meet. She worked for Hartley's Department Store, and was later a teller with City National Bank, Monongah National Bank, First Standard and Savings, and First National Bank. She retired in 2008 from the Marion County 911 center where she was dispatcher for over 17 years. She had also served as a dispatcher with the WV State Police. Barbara's focus in life was her family. She had served as treasurer with the Fairmont Little League for many years and was a Girl Scout Leader for her daughter's troop. She was a certified EMT and volunteered for many years with the Marion County Rescue Squad. She was a member of the Pythian Sisters as well as the Eastern Star Ch. 34. Barbara was and excellent house keeper and enjoyed baking for her family, especially her Christmas cookies and hard tack candy which often were given to all she knew.
In addition to her husband, she is survived by her daughter, Veronica Jean and her husband Keith A. Cloud of Milton, FL, her sons, Sonny and his wife Stacey L. Hayes of Pittsboro, NC, and Michael John and his wife Cassandra F. Hayes of Fairmont, her grandchildren: Jessica Lynette Cloud, Brittany Jean and her husband Ryan W. Nachtigal, Kristina Renee Cloud, Meaghanne Delia Hayes, and Olivia Garbrielle Hayes. She is also survived by her sister, Dolores "Corky" J. and her husband Kenny Martin of Morgantown, her brothers, Ronald E. and his wife Ella-Sue Bissett of Fairmont, Robert "Butch" L. and his wife Cynthia Bissett of Elkins, and Kent "Kenny" A. and his wife Jackie Bissett of Morgantown, a brother-in-law, Daniel Satterfield of Fairmont, a god-son, Trey Giorcelli of Fairmont, and her brothers-in-law, Chester E. Hayes of West Milford, WV, Earnest Hayes of CA, and James Hayes of Fairmont.
She was preceded in death by her sister, Lucy L. Satterfield
Friends and family may visit the Ford Funeral Home, 201 Columbia Street, Fairmont on Sunday, March 11, 2018 from 1PM until 8PM where Eastern Star services will be held at 7PM, and on Monday, March 12, 2018 from 12 noon until 1PM. The funeral will be held in the funeral home on Monday at 1PM with Pastor Sabrina Haught officiating. Entombment will follow at the Shinnston Memorial Cemetery in Shinnston, WV. Online condolences may be made to www.fordfuneralhomes.com.