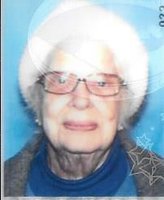 Aldeen Marie Eddy Satterfield
Aldeen Marie Eddy Satterfield, 95, of Core, passed away on Sunday, March 4, 2018, at her residence. She was born on April 23, 1922, a daughter of the late Frank Delmond Eddy and Nettie Corine Eddy. She was preceded in death by her loving husband, Howard Satterfield.
Mrs. Satterfield is survived by two sisters, Noreen Rose Morris of McCurdysville and Josephine Greco of Ft. Pierce, FL; her brother, Frank E. Eddy of Beech Mountain, NC; as well as several nieces and nephews, including Carol Henderson who provided outstanding support and care for Aldeen.
Aldeen worked at G.C. Murphy Co. and Owens-Illinois Co. She enjoyed gardening, quilting and traveling with her husband. They had visited every state except for Alaska.
The family would like to thank her caregivers Stephanie, Joe, Marlene, Evelyn and Connie for their love and support.
The family requests memorial contributions be made in Aldeen's memory to Morgantown Hospice, 3596 Collins Ferry Road #250, Morgantown, WV 26505.
The family has entrusted Ford Funeral Home, DeGarmo Chapel, 207 Second St., Rivesville, WV 26588, with the arrangements. A graveside service will be held at Arnettsville Cemetery on Saturday, March 10, 2018, at 1 p.m. Online condolences may be made to the family at www.FORDFUNERALHOMES.com.