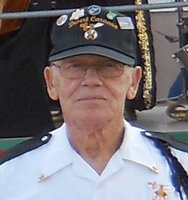 Earl Martin Keefer
Earl Martin Keefer, 68, of Fairmont, passed away on Tuesday, March 6, 2018 at his residence following an extended illness. He was born on October 21, 1949, in Hagerstown, MD, a son of the late Pearl Boppe Keefer Rowe and the late George Keefer Sr. Earl is survived by his wife of 44 years, Beverly Toms Keefer of Fairmont.
Earl was a Christian by faith. He was a graduate of Boonsboro High School. Earl was a veteran with the United States Marines having served two tours of duty in Vietnam. Earl was a Maryland State Trooper for 21 years retiring in 1994. He was Trooper First Class and a member of the S.T.A.T.E. team when he retired. After retirement he served as a private investigator in Maryland. Upon moving to West Virginia, Earl sold real estate where he worked with Picket Fences and later Real Estate Plus.
Earl was a 32 degree Mason with the Acacia Lodge #157 A.F.&A.M, the Scottish Rite Clarksburg Consistory, Order of the Eastern Star Ch. 34, Upper Mon Valley Shrine Club, Taylor County Shrine Club, and the Desert Caravan where he was currently serving president. He was a member the American Legion for 47 years, a lifetime member of the V.F.W. Post #7048, as well as a lifetime member of the N.R.A. Earl was an avid hunter and fisherman, he always enjoyed his annual elk hunting trip to Idaho which he fulfilled for over 26 years.
In addition to his wife, he is survived by his brother, G. Alvey Keefer Jr. of Maugansville, MD, half- brothers: Michael Keefer, Richard Keefer and Jeffrey Keefer all of Berkley Springs, WV, a half-sister, Dawn Warrington of Romney, WV, his sister-in-law, Barbara and her husband Harold Iseminger of Hagerstown, MD, his niece, Wendy Iseminger of Chambersburg, PA, nephews Jamie and his wife Amanda Iseminger of Hagerstown, MD, and David Iseminger and his partner Shawn Hagland of Takoma, WA. He is also survived by great-nephews, Trey Wilson and Cole Iseminger, his great-niece, McKenna Iseminger, as well as several other nieces, nephews, great-nieces and great-nephews.
Memorial donations may be made to the Shriners Hospitals for Children, 1645 W. 8th St., Erie, PA 16505 or to Peoples Hospice, 327 Medical Park Drive, Bridgeport, WV 26330.
Friends and family may visit the Ford Funeral Home, 201 Columbia Street, Fairmont on Thursday, March 8, 2018 from 4PM until 8PM. The funeral will be held at Minnich Funeral Home, 415 East Wilson Blvd, Hagerstown, MD 21740 on Saturday, March 10, 2018 at 1PM with Pastor Ronald Faith officiating. Friends and family may also visit at the Minnich Funeral Home from 11AM until 1PM prior to the funeral. Interment will follow at the Cedarlawn Cemetery in Hagerstown, MD, where military rite will be held at graveside. Online condolences may be made to www.fordfuneralhomes.com.