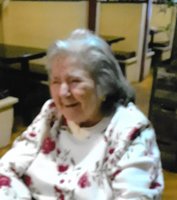 Derotha Jean "Dodie" Corbin
Derotha Jean "Dodie" Corbin died peacefully at her home on Sunday, March 4 at the age of 85. She was born October 15, 1932 the daughter of the late Mearl and Roxie Lehew Moran. She was preceeded in death by her husband William Benjamin Corbin, who died October 2, 1961.
Nicknamed by her baby brother, Bob, who couldn't pronounce her first name, Dodie helped care for her brother and support her family after their father passed away. Dodie always said that even during the depression, and with all her siblings going to work at an early age, she felt they never wanted for anything. She and her brother worked at a local bottling plant and were paid 5 cents a case plus all the soda they could drink while sorting bottles.
Dodie loved her family and always kept momentums and newspaper clippings and would share them during family gatherings. The most special time was Christmas Eve when the family would come to Dodie's house to enjoy food, sing carols, play games and put on the "Night before Christmas" puppet show that her son made for his Cub Scouts troupe many years ago.
Dodie never met a stranger and everyone was welcome in her home. She loved playing cards and bingo and in her later years played the TV game shows "Jeopardy" and "Wheel of Fortune" on the phone with her sister every week night. Everyone knew not to call either of them between 7 and 8 PM.
Dodie is survived by her son William "Bill" Corbin and her granddaughter Michelle Charnow. Other surviving family members include a sister-in-law Maxine Moran and several nieces, nephews and cousins.
She was preceded in death by her siblings Kathleen Moran Cain, Louise Moran Stewart and Robert Moran.
Friends may call at the Ford Funeral Home 201 Columbia St., Fairmont WV 26554 on Tuesday from 2-8 PM and Wednesday from 12-1. The funeral service will be on Wednesday at 1:00 PM with Mr. Chuck Prenatt officiating. Burial will follow at Clermont Cemetery in Fairmont, WV. Condolences may be made to the family at www.fordfuneralhomes.com.