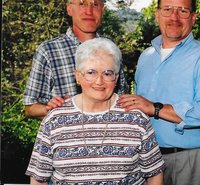 Margaret Ellen "Peggy" Turner
Margaret Ellen (Peggy) Turner passed away on Saturday, March 3, 2018, surrounded by her family. She had been a residence of the Pierpont Nursing home for the last year. Prior to that she had resided at St. Barbara's Nursing home.
Peggy was born in Fairmont, WV on April 25, 1923. She was the daughter of the late Patrick Cecil Moran and Kathleen Berry Moran. She graduated for East Fairmont High School in 1941. She was a member of the Christ Episcopal Church of Fairmont. Peggy was a member of the first group of women hired to work as a member of the production staff for Westinghouse. She had also worked for many years for the FMC Corporation and later for Fairmont State College, and was a member of the Beta Sigma Phi Sorority for sixty-six years.
She loved the Mountaineers, reading, puzzles, ceramics and was a collector of Avon, Coca Cola, angels, Norman Rockwell paraphernalia, and milk glass.
She was proceeded in death by her husband Frank Turner and one son, Terry Turner, as well as brothers John and David Moran and sisters Barbara Smith and Nancy Cavicchio. She is survived by her son Dan Turner and his wife Sharon, her daughter Lou Anne Pauley and her husband Dwight, her granddaughters Jodi Hume and husband Paul, Britney Rosenberger and husband Scott, and grandson, Brian Pauley, and her great grandchildren Turner, Isaac, Kaja and Ayla. She is also survived by one sister Frances Pregley, a sister-in-law Helen Moran, her God Daughter Alison Mercer as well as various cousins, nieces and nephews.
The family would like to thank the staff of West Virginia Caring, (Hospice) and the staff and residents of St. Barbara's and Pierpont Center for their truly compassionate care and abiding love for our mother, grandmother, and great grandmother. Memorial contributions may be made to West Virginia Caring, 1406 Country Club Road, Fairmont, WV 26554.
Visitation will be from 1:00PM to 8:00PM on Tuesday, March 6, 2018 at the Ford Funeral Home, R. C. Jones Funeral Chapel, 1410 Country Club Road, Fairmont, WV 26554. Mass will be held in the Christ Episcopal Church, 824 Fairmont Avenue, Fairmont, WV 26554 on Wednesday March 7, 2018 at 10:00 a.m. with The Reverend Julie B. Murdoch, Interim Rector. The committal service will be follow in the Beverly Hills Memorial Gardens, Westover, WV. A reception will be held following the committal service for family and friends. Online condolences may be made to the family at WWW.FORDFUNERALHOMES.com