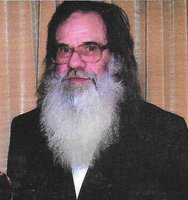 Raymond Edward "Eddie" Leeper II
Raymond Edward "Eddie" Leeper II, 66, of Grafton, passed away on Sunday, February 11, 2018, at his residence. Eddie was born on August 27, 1951, the son of the late Raymond Edward Leeper and Grace Summers Leeper. He is survived by his loving wife, Cindy Marie Martin Leeper.
In addition to his wife, Eddie is survived by his son, Raymond Edward "Eddie" Leeper III and his girlfriend Amy Dalton of Morgantown; two daughters, Dawn Vincent and her husband Paul Vincent II of Fairmont and Robin Leeper and her wife Mandy Seitz of Grafton; 5 grandchildren, J. Lovejoy, Chrisha Palmer, Allison Conner, Kyran Leeper, Kaden Leeper; three sisters, Linda Coffman and her husband Delano of Lost Creek, Martha "Ginny" Ashcraft and her husband Roger of Fairmont and Patricia "Patty" Graham and her husband Mike of Ohio; an aunt, Martha Alltop of Fairmont; his unofficially adopted son, Eddie Palmer as well as several nieces, nephews, great nieces, great nephews, and cousins.
Eddie worked as a machinist at J&S and retired from Novelis. He was a member of the Church of Jesus Christ of Latter Day Saints. Eddie enjoyed muzzle loading, hunting, buck skinning, his antique cars, napping, the outdoors, checkers, "playing tractor" and spending time with his family and friends.
The family requests memorial contributions be made in Eddie's memory to the American Cancer Society, 122 South High Street, Morgantown, WV 26501, or to the American Diabetes Association, PO Box 15829, Arlington, VA 22215.
The family will receive friends at Ford Funeral Home, 201 Columbia St., Fairmont, WV 26554, on Tuesday, February 13, 2018, from 4 p.m. until 8 p.m. and on Wednesday, February 14, 2018, from 12 noon until 1 p.m. The funeral service will be held in the funeral home on Wednesday, February 14, 2018, at 1 p.m. with Bishop Bott, Bruce Hunter and Mel Mauller officiating. A committal service will follow at Janes Memorial Cemetery. Online condolences may be made to the family at www.FORDFUNERALHOMES.com.