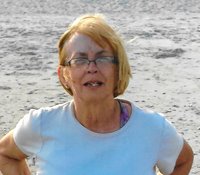 Therese Marie Dragich Laratta
Therese Marie Dragich Laratta of Fairmont, WV passed away Sunday, February 4, 2018 at Ruby Memorial Hospital. Therese was born March 6, 1954 in Uniontown, PA a daughter of George John and Theresa Ursela Susa Dragich Sr. She was preceded in death by her husband Leo Phillips Laratta.
Therese was a teacher in the Marion County School system for 35 years and retired in April of 2013. She loved teaching her students and impacting their lives. She loved spending time at the Fairmont Regional Medical Health Plus Fitness Center where everyone was like family.
She was always willing to help her family and friends. She would reach out to the homebound and sick helping those in need. She visited in the nursing home and desired to bring joy and laughter to the residents. Church was very important to her. She taught her family many lessons about life and how to live in happiness and prosperity. She was always proud to see us doing well in our lives. Therese's legacy and spirituality will live on in her family and friends
She enjoyed doing crossword puzzles, word searches, coloring books and spending time with family. She loved the sound of the ocean and enjoy going to Myrtle Beach. She was a huge Mountaineer football and basketball fan.
Therese is survived by two sons Christopher John Laratta of Fairmont and Gregory Anthony Laratta and his fiancé Danielle Cairney both of Fairmont; one daughter Laura J. Laratta of Fairmont; two brothers George J. Dragich Jr. and wife Donna and Tom Dragich of Fairmont; one sister Dr. Bernadette Dragich of Princeton and her mother-in-law, Josephine Laratta of Pleasant Valley. She is also survived by many nieces and nephews and relative in PA and WV.
Memorial contribution can be made to the St. Barbara's Nursing Home 134 County Road 19-10 Monongah, WV 26554.
Family and friends may at Ford Funeral Home 201 Columbia St., Fairmont, WV 26554 on Wednesday, February 7 from 2-8 PM. A Catholic Vigil will be held in the funeral home on Wednesday at 5:00 PM. There will be a Mass of Christian Burial at the Immaculate Conception Church 329 Maryland Ave., Fairmont, WV 26554 on Thursday, February 8 at 10:00 AM with Fr. Jojan Joseph, CST as celebrant. Burial will follow at the Mt. Carmel Cemetery. Online condolences may be made to the family at www.fordfuneralhomes.com.