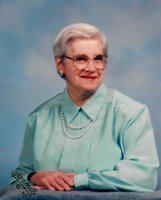 Helen Mildred Metzgar
Helen Mildred Huffman Metzgar, 89, passed away peacefully Saturday, February 3, 2018, surrounded by family.
She was born December 19, 1928 to the late Abraham and Minnie Huffman of Mount Pleasant, Pennsylvania, the ninth of ten children. She moved to Harrison County, West Virginia when she was 15 years-old, and quickly made it her adopted home. Shortly after moving to West Virginia, she met and fell in love with Carlton E. Metzgar. Helen and Carlton were married December 15, 1946, and spent 35 joyful years together until they were separated by his death.
Helen is survived by her three children: Doris McIntyre of Clarksburg; Albert (Tammy) Metzgar of Hampton, Virginia; and Sharon (Raymond) Eddy of Columbus, Ohio.
She is also survived by her six grandchildren: Carrie (Dennis) Edwards of Clarksburg; Rebecca (Matthew) Swartz of Shinnston; George (Crystal) McIntyre of Hurricane; Jess McIntyre of Clarksburg; Dana Eddy of Columbus; and Logan Eddy of Columbus. Additionally, she is survived by her five great-grandchildren, Aidan, Morgan, Alyrah, Liam, and Eli. She is also survived by a sister-in-law, Eleanor Huffman of Austintown, Ohio, and several nieces and nephews, each of whom had a special place in Helen's heart.
In addition to Carlton and her parents, Helen was preceded in death by: her siblings, Margaret, Catheryn, John, Mary, Nancy, Joseph, Harry, Alvin, and Russell; her son-in-law, Ronald McIntyre; and several cherished brothers-in-law, sisters-in-law, nieces, and nephews.
Helen was a devout Christian whose faith was important to her. She was a member of the Bridgeport United Methodist Church for nearly fifty years, where she was active with the United Methodist Women and Joyful Noise. Prior to moving to Bridgeport, she was a member of both Stewart Chapel Methodist Church and the Quiet Dell United Methodist Church.
Helen was a bookkeeper for several years, retiring from KSD Diesel in 1995. In retirement, she devoted herself to charity and helping others. She spent a large portion of her time volunteering for several charities, particularly Shepherd's Corner.
Helen's hobbies included gardening, water aerobics, and playing cards with her family. Square dancing was also an important and enjoyable pastime, through which she made many close friends. She was an avid traveler who visited much of the United States. One of Helen's favorite trips was her journey to Jerusalem, where she visited multiple holy sites and locations.
Helen was an exceptional person who lived an incredible life. She knew no strangers, touching the lives of everyone she encountered.
The family requests donations may be made in Helen's memory to the Bridgeport United Methodist Church Permanent Fund, 251 Worthington Drive, Bridgeport, WV.
Friends will be received at Ford Funeral Home, 215 East Main Street, Bridgeport on Wednesday from 2:00 PM – 8:00 PM. A celebration of Helen's life will be held on Thursday, February 8, 2018 at the Bridgeport United Methodist Church, 251 Worthington Drive, Bridgeport, WV at 11:00 AM with Reverend Dr. Ken A. Ramsey presiding. Interment will follow at Floral Hills Memorial Gardens in Quiet Dell, WV.
Condolences may be extended to the family at www.fordfuneralhomes.com.
The Metzgar family has entrusted the care and arrangements to the Ford Funeral Home, 215 East Main Street, Bridgeport, WV.