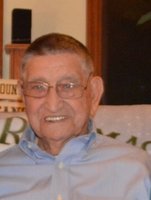 James "Jim" Cheira
James 'Jim' F. Chiera, 89 of Madison, WV, formerly of Barrackville, WV, died January 30, 2018 after a short illness. He was born June 12, 1928 in Haywood, WV.
Jim was the son of the late James Chiera and Lulu Jane Swiger Chiera. He was married to Dolores Marie Griffith Chiera who died in 2001. Those who went before him are his daughter Sandra Chiera, son-in-law Charles W. Ellis, Jr, and his sisters Ruth Santy, Amy Cunningham, and Roberta Chiera.
Jim is survived by his daughter Brenda Chiera Ellis with whom he made his home in Madison, WV, along with his sister Novella Drazba. He is also survived by sisters-in-law Mary Griffith, Janice Griffith, and a brother-in-law James Herman Griffith, as well as several nieces and nephews.
Jim was lovingly referred to as 'Papaw' by his six grandchildren, Andi Hurt Copp (Everett) of Woodstock, VA, James Bradley Hurt of Barrackville, WV, Denise Whitnee Hurt of Fairmont, WV, Christina Ellis Hannah (Forest) of South Charleston, WV, Carrie Beth Hager (Joey) of Hewett, WV, and Courtney Kaye Ellis of Charleston, WV; six great-grandchildren, Courtney and Hannah Copp, Carley Hurt, Charlie and Elayna Hannah, and Maylee Jo Hager; and one great-great grandchild Braelynn Payne.
He also leaves behind his good buddies in Barrackville. They spent most of their time together in the shop building different things together until his move to Madison in 2013.
Jim was a 1946 graduate of Barrackville High School. He retired from Bethlehem Steel in 1977 with 30 years of service. He then retired from Martinka Coal Company with 12 years of service. Jim was a proud member of the UMWA and Fairmont Lodge #9 A.F. & A.M. where he recently received his 50 year pin. Jim was also a member of the Lion's Club and volunteered at the Soup Kitchen. Jim was a member of the Barrackville United Methodist Church where he was involved in the church choir and also the Methodist Men's group. He was an avid football fan and loved watching the Steelers and Mountaineers. He also loved watching his Western movies or 'Cowboys' as he often referred to them, even if he had seen them many times before. He often could be heard whistling or singing a tune and never shied away from telling stories about his younger days.
Memorial donations may be made to Barrackville United Methodist Church, P.O. Box 186, Barrackville, WV, 26559.
Visitation will be held Friday, February 2, 2018 at Ford Chapel on Columbia Street from 6:00-8:00. And on Saturday, February 3, 2018 from 10AM until 11AM. The service will be held in the funeral home on Saturday, February 3, 2018 at 11:00 with Reverend Stephanie Bennett and Father Jim O'Connor officiating. Interment will follow at Grandview Memorial Gardens in Fairmont with Fairmont Lodge #9 A.F. & A. M. conducting the graveside service. Online condolences may be made to www.fordfuneralhomes.com