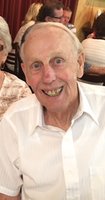 Ronald C. Eismon
Ronald C. Eismon, 85, of Fairmont was called home to be with the Lord on January 5, 2018. He was born February 22, 1932 in Colburn, WV, a son of the late Rosco Eismon and the late Verla Gump DeLaReintrie Eismon. He is survived by his loving wife of 62 years, Lillian Eismon.
Ronald was a veteran with the United States Army. He owned and operated the Mom and Pops Mart in Fairmont. He was a lifetime member of the West Virginia Sportsman and Firearms Club as well as the NRA. He loved hunting and fishing. Ronald was a devoted and loving husband, father, grandfather, and great-grandfather.
In addition to his wife, he is survived by his daughter Ronda and her husband Kip Reeves of Fairmont, his granddaughter, Macole Bunner and her fiancé Eric Vandergrift of Grafton, a grandson Gaynon Bunner of Fairmont, and a great-grandsons Gaynon "Ty" Bunner of Fairmont, and Brodie Vandergrift of Grafton. He is also survived by his brother, Stanley and his wife Lorraine DeLaReintrie of Fairmont, a sister Mary-Beth DeLaReintrie of Fairmont, and several nieces and nephews.
In addition to his parents, he was preceded in death by his maternal grandparents Homer and Molly Gump of Mannington.
Friends and family may visit the Ford Funeral Home, 201 Columbia Street, Fairmont, on Monday, January 8, 2018 from 2PM until 8PM and on Tuesday, January 9, 2018 from 10AM until 11AM. The funeral will be held in the funeral home on Tuesday, January 9, 2018 at 11AM with Pastor Scott Krepps officiating. Interment will follow at the Mannington Memorial Park, Mannington, WV. Online condolences may be made to www.fordfuneralhomes.com.