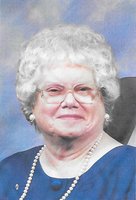 Barbara Ann Harbert Dzielski
Barbara Ann Harbert Dzielski, 83, of Meredith Springs Community, passed away on Monday, December 25, 2017, at the Fairmont Health and Rehabilitation Center. She was born on May 21, 1934, the daughter of the late Harry Glenn Harbert and Flossie Mabel Watkins Harbert. Mrs. Dzielski was preceded in death by her loving husband Frank Dzielski Jr.
Mrs. Dzielski is survived by her two sons, Frank A. Dzielski and his wife Kathy of Nutter Fort and Dale G. Dzielski and his wife Regina of Fairmont; her daughter, Debra Ann Dzielski of Clarksburg; grandchildren, Bethany Jarmul and her husband Joshua of Gipsonia, PA, Lauren Dzielski of Fairmont, Amanda Weimer and her husband Terry of Fairmont, and Joshua Dzielski and his wife Jessica of Fairmont; great grandchildren, Gloria and Talia Weimer and Raelynn Dzielski; and sisters-in-law, Martha Harbert of San Antonio, FL and Sophie Harbert of Fort Worth, TX.
In addition to her husband and parents, Mrs. Dzielski was preceded in death by her brothers, Richard W. Harbert and H. Jack Harbert.
Mrs. Dzielski was a lifetime member of First Baptist Church in Fairmont and formerly worked at Fairmont Supply, Dick's Drive In, the Fairmont Hotel and also ran an in-home daycare once her children were grown. She was a graduate of Fairmont Senior High School where she played tenor sax in the band and attended Fairmont State. She lived at Rock Lake until she was married and was a member of First Baptist Women's Circle, enjoyed playing bingo at Maplewood, traveling and going camping with her family, attending family reunions, square dancing and once danced on the Lawrence Welk Show, and going to the Moose Club with her husband.
The family requests memorial contributions be made to WVU Medicine Children's, PO Box 8200 (ROC 117), Morgantown, WV 26506.
The family will receive friends at Ford Funeral Home, Ford Chapel, 201 Columbia St., Fairmont, WV 26554, on Wednesday, December 27, 2017, from 4 p.m. until 8 p.m. and on Thursday, December 28, 2017, from 10 a.m. until 11 a.m. The funeral service will be held in the funeral home on Thursday, December 28, 2017, at 11 a.m. A committal service will follow at Grandview Memorial Gardens in Fairmont. Online condolences may be made to the family at www.FORDFUNERALHOMES.com.