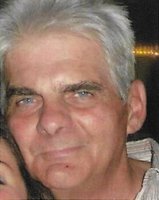 Rodney Thomas Ross
Rodney Thomas Ross, 68, of Monumental Community, passed from this world into his heavenly home on Monday, December 18, 2017 at his residence surrounded by his loving family. He was born in Massillon, OH, on May 17, 1949 a son of the late Patsy and Katherine Knight Ross.
Rod attended Massillon Washington High School and was an avid Massillon Tiger fan. He served in the Army and fought with honor in the Vietnam War. After moving to West Virginia, Rod attended and graduated from Fairmont State University with a Regent's Bachelors of Art degree in 1981. He worked of the state of West Virginia and then went to work at the US Postal Service, where he retired after many years as a letter carrier.
Rodney leaves to cherish his memory, his wife of 44 years, Melanie Farrell Ross, and daughter Lauren E. Ross. Also surviving are his beloved grandchildren, Jacob Snyder, Julianna D'Alfonso, and Bella Ross who brought him much joy; a brother Randy Ross and wife Ginny; his sisters Nancy Briggs and husband Bob, and Sue Repp and husband Dave; a brother-in-law J. Richard Farrell and wife Darla; a sister-in-law Joanne Butts and husband Gerry, a brother-in-law Thomas Pakela, a sister-in-law Debbie Aldridge, a daughter-in-law Marty Vansickle and husband David, as well as many nieces and nephews, and his very special friend Erric Waddell.
Besides his parents, Rodney was preceded in death by his grandparents, John and Anna Ross, and James and Eva Davis, his wife's parents, Guy and Elizabeth Farrell, sister-in-law Bonnie Farrell Pakela, brother-in-law John Farrell, step-son, Michael A. D'Alfonso and nephew Sean R. Farrell.
Rodney had a special love for music and was always ready to pick out a tune with his many musician friends, especially at his camp on the river in Romney, where he truly enjoyed spending time with his camp family. Rod never knew a stranger, and was loved by so many friends. We know "Rockin' Rod" is jammin' out with the Angels and is at peace.
Memorial contributions may be made to Disabled American Veterans at www.dav.org or the St. Jude's Childrens Hospital, PO Box 1000 Dept 142, Memphis TN 38101-9908.
Friends and family may visit the Ford Funeral Home, 201 Columbia Street, Fairmont, WV on Sunday, February 4, 2018 from 2PM until 8PM and on Monday, February 5, 2018 from 10AM until 11AM. The memorial service will be held in the funeral home on Monday, February 5, 2018 at 11AM with Pastor Robert Shingleton officiating. Interment will follow at the West Virginia National Cemetery in Pruntytown, WV. Marion County Veterans Council will perform military rites at graveside. Online condolences may be made to www.fordfuneralhomes.com.