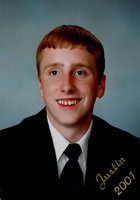 Justin Seth Toothman
Mr. Justin Seth Toothman, 35 years of age of Bridgeport, WV passed away on Saturday, December 2, 2017 at his residence. He was born December 28, 1981 in Fairmont, WV.
He is survived by his wife Kimberly Brown Toothman. They had celebrated fourteen years of marriage. He is also survived by his father Greg Toothman and his wife Lisa of Grafton, WV; his mother Cynthia Ann Core Toothman of Elkins, WV; two brothers Derek Tyrone Miller and his wife Preshes of Clarksburg, WV and Matthew Gregory Toothman of Grafton, WV; a nephew Alexander Tyrone Miller of Clarksburg, WV and several aunts, uncles and cousins. He was also preceded in death by his paternal grandparents Donald and Marie Toothman.
Justin was a 2001 graduate from Grafton High School. He previously worked for a contractor at the FBI.
He was an avid fisherman and was often seen at Deegan Lake in the Bridgeport community. He joined his Dad and family to hunt at the Kester farm. His favorite family holiday was the Fourth of July. He used this celebration to marry his wife in 2003. He loved country music and his amazing smile will be missed in the community.
Friends will be received at the Ford Funeral Home, 215 East Main Street, Bridgeport, WV on Wednesday from 2:00 PM – 4:00 PM and 6:00 PM - 8: 00 PM. The funeral service will be celebrated in the funeral home on Thursday, December 7, 2017 at 11:00 AM with Reverend Thomas P. Horne presiding. The interment will follow at Middleville Baptist Cemetery, Taylor County, WV.
Condolences may be extended to the family at www.fordfuneralhomes.com.
The Toothman family has entrusted the care and arrangements to the Ford Funeral Home,2 15 East Main Street, Bridgeport, WV.