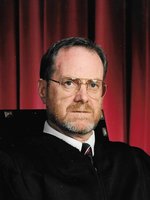 Fred L. Fox
Retired Circuit Judge Fred L. Fox II, of Fairmont, died on Monday, November 27, 2017, following a valiant fight against a short illness.
Born on August 12, 1938, in Charleston, WV, Judge Fox graduated from Greenbrier Military Academy in 1956 and Davis & Elkins College in 1960. Following college, he proudly entered the United States Marine Corps, where he became a commissioned officer. He served for thirty-nine months and, upon returning to West Virginia, followed in his father's and "Grandfox's" footsteps and enrolled in law school. He graduated from West Virginia University College of Law in 1967, ranking second in his class. Judge Fox was a member of the Order of the Coif and humbly attained many other academic honors. In 1968, he graduated from the Naval Justice School in Newport, Rhode Island.
Soon after joining the law firm of Furbee, Amos, Webb & Critchfield, Judge Fox returned to active duty during the peak of the Vietnam War. Because he felt it to be his patriotic duty, Judge Fox fought in Vietnam as an Infantry Company Commander from 1968 to 1969. He was awarded two Bronze Stars with Combat "V," two Vietnamese Crosses of Gallantry with Gold Star, and a Purple Heart. Due to combat-related injuries, Judge Fox retired as a captain in 1969. He lived his life endlessly and tirelessly honoring his fallen comrades.
Judge Fox was deeply honored to serve Marion County as its Sixteenth Judicial Circuit judge for forty years, followed by nearly three years of duty as a senior-status judge. In 1995, he was appointed to serve a ten-month term to the West Virginia Supreme Court of Appeals. He was a Judge Advocate General in the United States Marine Corps.
Judge Fox is survived by his devoted wife, Debra, of Fairmont; one daughter, Charlee Anne of Charleston, WV; three sons, Joseph of Pittsburgh, PA, Logan (wife Ashley) of Clearwater, FL, and Zach (fiancée Sarah) of Jane Lew, WV; four grandchildren, Lindsay, Kelsey, Nick, and Benjamin; one sister, Janie Cutlip, and husband, Butch, of Sutton, WV; three sisters-in-law, Barbara Proper, Sharon Savage, and Charlene Riggle; two brothers-in-law, James Snyder and Kevin Snyder; and extended family. He is preceded in death by his mother and father, Leah and John Fox, and his sister, Mary Ann.
He loved his family and he was an extraordinary father and husband. Judge Fox was an avid reader, astute historian, talented golfer, as well as an ardent Willie Nelson fan. He enjoyed meeting with his breakfast crew after he retired. Judge Fox was fair and honest, kind and compassionate, generous and selfless. He leaves an incredibly deep void, but an even vaster legacy in the hearts of all those who knew him.
Judge Fox will be memorialized at a special meeting of the Marion County Bar Association to be held on Wednesday, December 13, 2017, at 1:00 p. m., in the Judge Fred L. Fox II Courtroom on the third floor of the Marion County Courthouse, 219 Adams St., Fairmont, WV 26554. Members of the Bench, the Bar and the public are welcome to attend. A committal service will be held at Arlington National Cemetery in Arlington, VA at a later date. Full military funeral honors will be conducted at graveside. Arrangements have been entrusted to the Ford Funeral Home, 201 Columbia Street, Fairmont, WV 26554. Online condolences may be made to the family at www.FORDFUNERALHOMES.com.