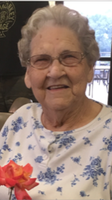 Martha Jane Lucas
Martha Jane Lucas, 89, of Fairmont, passed away on Sunday, November 26, 2017 at the John Manchin Healthcare Center in Fairmont. She was born August 24, 1928 in Barrackville, WV a daughter of the late Elton C. and Ida Wilson Musgrave. She was preceded in death by her husband Ray Willard Lucas, Sr.
Mrs. Lucas was a Methodist by faith and homemaker in her own home. She was a graduate of Barrackville High School. She loved taking long walks, working with ceramics, and playing canasta with her friends. Martha enjoyed sewing and quilting, as well as attending her grandchildrens' sports activities.
Survivors include her sons, Ray "June" Lucas Jr. and his wife Sharon of Fairmont, and William Lucas of Mannington; her daughters, Linda Sturdevant of Bluffton, SC, and Betty and her husband Loren Schmidt of Benton's Ferry; 13 grandchildren,18 great grandchildren, and two great great grandchildren.
In addition to her husband and parents, she was preceded in death by her brother Carl Musgrave and her son-in-law, Alan Sturdevant.
Friends and family may visit the Ford Funeral Home, 201 Columbia Street, Fairmont on Thursday, November 30, 2017 from 3PM until 8PM, and on Friday, December 1, 2017 from 10AM until 11AM. The funeral will be held in the funeral home on Friday, December 1, 2017 at 11AM with Pastor Claude Kinty officiating. Interment will follow at the Beverly Hills Memorial Gardens in Westover. Online condolences may be made to www.fordfuneralhomes.com.