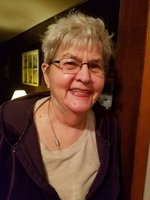 Clara Lou Nelson Guthrie
Clara Lou Nelson Guthrie, 81, of Moody Run, passed away Sunday, November 26, 2017 at her residence surrounded by her family. She was born July 3, 1936 in Marion County, a daughter of the late Arthur C. and Dorothy E. Exline Nelson. She was preceded in death by her husband James Merle Guthrie in January of 1978.
Mrs. Guthrie was a 1955 graduate of Barrackville High School and a past member of the Barrackville Church of Christ. She retired in 1993 from the Philips Lighting in Fairmont where she worked for over 26 years in the U bent light division. Clara was a member of the Barrackville Lions Club and the Fairmont Moose Lodge No. 9 ladies auxillary.
Survivors include her children, James Lewis and his wife Beth Guthrie of Mt. Harmony Community, Jackie Lynn Fitch of Barrackville, Joy Lee and her husband Mario A. Caliguiri of American Canyon, CA, and Jody Merl and his wife Nora Guthrie of Fairmont; her brothers, Lewis and his wife Doris Nelson of Medina, OH, and Roger Nelson of Farmington, WV; her grandchildren, Chelsie and her husband Brad Fitzwater of Wake Forrest, NC, Claudia Caliguiri of San Anselmo, CA, Madison Fitch of Fairmont, and Shea Fitch of Greensburg, PA; great grandchildren Audrey and Caroline Fitzwater; several nieces and nephews, as well as her beloved dog "Sunnie".
In addition to her husband and parents, she was preceded in death by her sister, Emma Jo Nelson
Memorial donations may be made to the Barrackville Lions Club, 211 Pike Street, Barrackville, WV 26559.
The family has entrusted Ford Funeral Home, 201 Columbia Street, Fairmont with the arrangements. In following Clara's wishes, cremation services will take place. There will be no public services. Online condolences may be made to www.fordfuneralhomes.com.