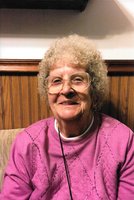 Helen Louise Stacy
Helen Louise Stacy, 88, of Fairmont, passed away on Saturday, September 30, 2017, at Wheeling Hospital in Wheeling, WV. Helen was born on October 7, 1928, a daughter of the late Asa Rogers and Sue Mary Kelley Rogers. She was preceded in death by her loving husband, Russell L. Stacy Sr.
Helen is survived by her children, Sharon Vincent, Jackie Wells (Dick), Patty McCombs (Bill), Lynn Russell, Russell Stacy Jr. (Teresa), Don Hess and Donna Metheny (Mike); 14 grandchildren; 24 great grandchildren and two great-great grandchildren.
In addition to her husband and parents, Helen was preceded in death by her brother, Robert C. Rogers and two sisters, Dorothy Dumire and Sara Smith.
Mrs. Stacy retired from Fairmont General Hospital in 1993 and enjoyed playing bingo, cards, puzzle books and fishing.
The family will receive friends at Ford Funeral Home, Ford Chapel, 201 Columbia St., Fairmont, WV 26554, on Tuesday, October 3, 2017, from 1 p.m. until 8 p.m. and on Wednesday, October 4, 2017, from 10 a.m. until 11 a.m. The funeral service will be held in the funeral home on Wednesday, October 4, 2017, at 11 a.m. with Pastor Craig Moore officiating. A committal service will follow at Grandview Memorial Gardens in Fairmont. Online condolences may be made to the family at www.FORDFUNERALHOMES.com.