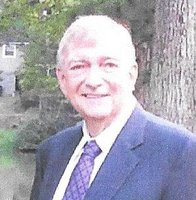 Blaine Kevin Myers
Blaine Kevin Myers of Rock Lake died on Sunday, September 24 after a long series of illnesses. He was 69.
Blaine is survived by his wife Jane Mainella Myers; his children Kevin Charles Myers and his wife Rebecca Ann (Martin) of Fairchance, PA, and Julia Claire Myers of Morgantown, his grandchildren, Cody Allen Myers, Mary Grace Myers and Daniel Lee Morgan, sisters, Joyce Elaine Van Sickle and her husband Raymond of Smithfield, PA and Nancy Gayle Christoff and her husband Tim of Powell, OH and many beloved nieces and nephews. He is also survived by his brother-in-law and sister-in-law, Thomas and Joyce Mainella of Fairmont, and his mother-in-law, Julia Pitrolo Mainella of Fairmont. Blaine was preceded in death by his father-in-law, Louis Mainella, his brother, Gary Edward Myers and grandson, Jeremy Charles Myers.
Blaine was born June 25, 1948 in White House, PA to the late Hazel Irene Rittenour and Frank Myers. Blaine promised his mother he would go to college and was true to his word. He excelled at high school football and won an athletic scholarship to Long Island University. He returned to his family to work in the mines full time, while receiving degrees in mining engineering and mine management from Waynesburg State University and the Pennsylvania State University. He later was awarded a law degree from West Virginia University.
Blaine worked for many years for Consol Energy. He was a pioneer in longwall mining and a superintendent at the Humphrey Mine. He then worked for many years as an independent legal consultant, specializing in mining safety cases and helping families of coal miners who were injured or killed in the coal mines of West Virginia.
The outdoors and intellectual pursuits appealed equally to Blaine. He fished, hunted and loved to garden. He also delighted in discussing law and politics with Jane and his daughter Julia, a second-year law student at WVU. Even in his darkest days, his purest joy came from the frequent phone calls and visits from his son Kevin, of whom he was so proud.
He stayed active in the Rock Lake community where he often put his engineering skills to good use. Friends recall Blaine as a kind man who would offer tomatoes from his summer garden or help to start a neighbor's engine on a cold winter day.
He remained his quietly humorous, analytical self throughout his life. He talked least but said most. Blaine lived and died a coal miner.
The family will receive friends at Ford Funeral Home, Ford Chapel, 201 Columbia St., Fairmont, WV 26554, on Saturday, September 30, 2017, from 11 a.m. until 1 p.m. A memorial service will be held in the funeral home at 1 p.m. Family and friends are invited to a reception immediately following the memorial service at Blaine and Jane's home at Rock Lake. A private committal service will be held for the family at a later time. Online condolences may be made to the family at www.FORDFUNERALHOMES.com.